Comedy, Dining
Dirty Dicks Theatre Restaurant
50th Anniversary Tour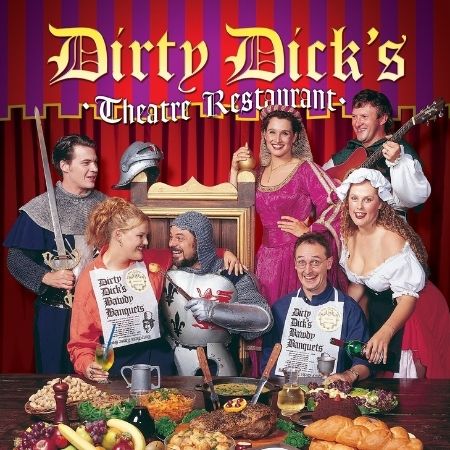 WEDNESDAY 14 SEPTEMBER, 7PM
Come along and enjoy this special 50th Anniversary show with ALL the 'Best Bits' of Dirty Dick's. Dirty Dick's is more than just a night out.
Laugh-a-long, Sing-a-long and Clap-a-long AND enjoy a fantastic, fully themed night of Olde English merrymaking.
From the moment you arrive, the fun starts. Join our wondrous wenches, lively lads and merry minstrels as they settle you into the spirit of the evening. Then sit back and be entertained by a host of historical (or should that be hysterical!) stage characters as they recount some of history's more notable events.
Whether you're a 'first timer' or you've been before, there is always something new and different for you to enjoy. Come and (RE) discover Dirty Dick's.
Dress: Smart Casual
Show finishes: 10.20pm Then stay and enjoy the PAC's facilities till closing time
Dirty Dick's is ideal for small or large groups, for the young and not so young, for special celebrations or just a great night out.
Arrive: at 6.30pm for 7pm start
Tickets: $70ea which includes the brilliant stage show
PLUS
Meal: A magnificent 3 course dinner
This is a COVIDsafe, accessible and inclusive event for all abilities and demographics. If you need assistance at the venue, please let us know when booking your ticket or contact us directly.
Music - Musical Theatre
$70.00
14 September 2022
180 minutes
7:00 pm
Hamilton Performing Arts Centre
Function Room
Must be 18+