Children
Hidden Creatures Workshop
TUESDAY 26 OCTOBER – FRIDAY 29 OCTOBER11am (Schools) and 4pm daily A talking pinecone monster? A singing, dancing tree? See the Hamilton Botanic Gardens come to life like never before! Presented as part of Hamilton Performing Arts Centre program, Hidden Creatures Gallery is an exciting, interactive work delivered by Arena Theatre Co.  Hidden Creatures Gallery enables audiences to interact with and explore the gardens in new and exciting ways, mixing the real-life physical environment of the Hamilton Botanic Gardens with the magic of digital technologies. Find inspiration in natural surrounds and turn your captured images into a weird and wonderful animated character that talks and moves through your mobile or tablet. Using a blend of cutting-edge technology and imagination, the Arena tech experts will help you bring your own crazy creatures to life. A week filled with workshops will culminate in a Halloween Hunt in the Hamilton Botanic Gardens where you can explore this newly created digital landscape and hunt for the creatures, discovering other treats, surprises and activities on the way.  Workshops will be delivered under HPAC's COVIDSafe plan with capacity limits, social distancing and masks as required, facilitated by the fully vaccinated team from Bendigo's Arena Theatre Co. Booking is essential as spaces are limited for these workshops. Hidden Creatures Gallery Workshops - $10 per participant Workshop times: Tuesday 26 October – Friday 29 October4 – 5pm dailyLimit of 10 participants per workshop  School booking enquiries can be made to HPAC Box Office - 5573 0429 or via email: Schools Booking Enquiry For more information on curriculum links and extension activities please contact Education and Engagement Officer, Agostina Hawkins. Click For More Info
Hamilton Performing Arts Centre
Function Room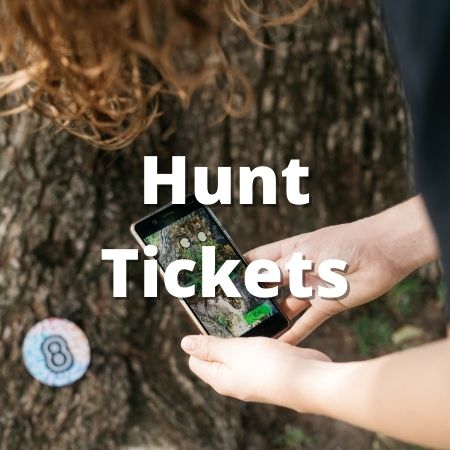 Children
Hidden Creatures Halloween Hunt
FREE EVENT SATURDAY 30 OCTOBER, 2PM A week of interactive workshops will be followed by a free afternoon of fun in the Hamilton Botanic Gardens! Hunt high and low for augmented reality creatures - you can't see them with the naked eye, but hover a device over the targets and the creatures will awaken to introduce themselves! Discover Halloween themed activities throughout the glorious gardens too, from spooky stories to rock monster craft workshops with the Hamilton Gallery, plus healthy spooky treats! There's even a special screening of Monsters Inc at the Hamilton Cinema with free popcorn for all those who complete the hunt! This is a free event but booking is essential to keep this event COVIDsafe – don't miss out! Notes: Maximum tickets per booking is 10 Find out about the workshops here
Hamilton Botanic Gardens
Hamilton Botanic Gardens
Music
MSO
THURSDAY 11 NOVEMBER, 7.30PM The MSO returns to Hamilton with a memorable evening of classical masterpieces! Vivaldi's adrenaline-charged virtuosity, The Four Seasons, will showcase four brilliant soloists from the MSO's own string section. Vivaldi's beloved work musically depicts everything from a flower-strewn meadow to a violent thunderstorm, with plenty of orchestral fireworks along the way. This special event will also feature Dvořák's charming Serenade for Strings which will delight with its soaring and lively melodies. Program Dvořák Serenade for StringsVivaldi The Four Seasons Featuring Melbourne Symphony OrchestraFabian Russell conductor Tair Khisambeev violinKirstin Kenny violin Freya Franzen violin Tiffany Cheng violin
Hamilton Performing Arts Centre
The Handbury Auditorium
Contemporary
The Traveling Wilburys Sessions
SATURDAY 13 NOVEMBER from 5PM HPAC is delighted to bring to Hamilton the first outdoor live music concert in the region since the pandemic began; live music by a talented local musician followed by an epic tribute to The Traveling Wilburys! Enjoy food, drinks and entertainment on the lush lawns of the Hamilton Racecourse in this one-off show; the first time ever HPAC has taken over this venue for a special event.   The Traveling Wilburys was one of the world's original supergroups, with their star-studded line-up rocking audiences from 1988. Any band in which Tom Petty and Jeff Lynne are the 'unknowns' would have to be very special. George Harrison, Bob Dylan and Roy Orbison are giants of popular music who completed this magical lineup. They are adored by all generations of music lovers. Their songs have now been re-imagined for Australian concert audiences. Live music and refreshments in a sunset performance for all ages; it doesn't get much better. Music director Sam See has assembled some of Australia's favourite musicians to reimagine the Traveling Wilburys' great hits and breathe new life into some of the individual artists' favourite songs. Together they create an unforgettable experience featuring sensational vocals, knockout harmonies and gargantuan guitar work as they pay tribute to the Wilburys and its superstar members. A little about the artists: James Black, keyboardist, guitarist and music director of The RocKwiz Orkestra has played with rock royalty Mondo Rock and The Black Sorrows. Lindsay Field sings with John Farnham and has performed with Jimmy Barnes, Glenn Shorrock, Olivia Newton-John and Renee Geyer. Sam See, music director, guitarist and a founding member of Sherbet, has played with and been music director for John Farnham, Brian Cadd and Steve Vizard's Tonight Live. Glyn Mason has sung and played with Brian Cadd, Chain, Ariel and Copperwine. Lindsay, Sam and Glyn are well known on Melbourne's acoustic rock scene as Field, See & Mason. Angus Burchall drums with John Farnham and Olivia Newton-John. Paul Cartwright on bass has played with Glenn Shorrock, David Bridie and Wendy Matthews. Gates: Open at 4pm, Entry via Main Entrance on Cavendish Rd Tickets: Will be available at the gate, subject to availability. Contactless payments via card only, cash not accepted. Support Act: 5pm to 5.30pm (come back and check out who it will be!) Seating: Please BYO picnic blankets and chairs. Food and Drinks: A great selection will be available for purchase at the racecourse, please do not BYO. Water and food for children, and special meals for a medical diet will be permitted. Cancellation Policy: In the case of severe weather or COVID restrictions, a decision will be made no later than 2 hours prior should the concert need to be postponed or cancelled. Full refunds or exchanges will be available. All ticketholders will be notified by SMS where possible. Please also check our socials for any updates. COVIDsafe: This is a COVIDsafe event. Please adhere to restrictions in place at the time of the event, and be advised that entry will be refused for non-compliant ticketholders. Access & Inclusion: This is an accessible, inclusive event for all abilities and demographics. If you need assistance booking in or accessing the venue, please let us know when booking your ticket, or contact us directly. 
Hamilton Racecourse
Outdoor Space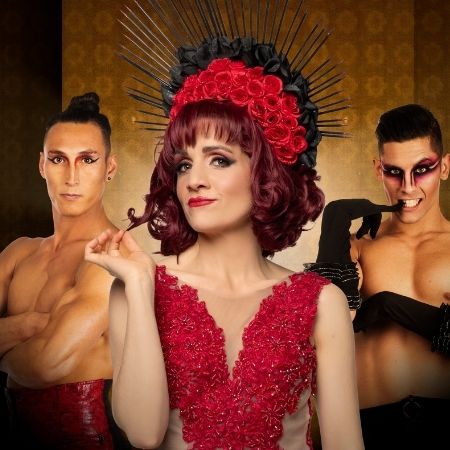 Dance, Circus
Rouge
WEDNESDAY 8 DECEMBER, 7.30PM A circus for grown ups Rouge is a decadent blend of sensational acrobatics, operatic cabaret and tongue in cheek burlesque. This is a non-stop celebration of the astonishing, the surprising and the downright sexy. Rouge is circus for grown-ups. The brand new adult circus cabaret from the creators of Australian sensation Papillon, Rouge is set to take the world by storm and is a headline show at the Adelaide Fringe. Escape the every day and join Rouge for the most twisted and ridiculous experience you'll have this year. REVIEWS ⭐⭐⭐⭐⭐ 'Rouge is a show that never drops momentum and energy, all the while keeping your attention, and stirring up lustful thoughts until the very end.' - Hi-Fi Way (AU) 'What really made this show stand out though was the pure, unadulterated joy that came from every single performer.'- Out In Perth (AU) You will be seated on our stage for this show.For over 18's only. Sneak Peek Tickets:Adult $39Seniors $37Concession $35Under 30's $31*Friends of Hamilton Gallery - 10% off full ticket price*Must be a current member
Hamilton Performing Arts Centre
PACked Stage Gig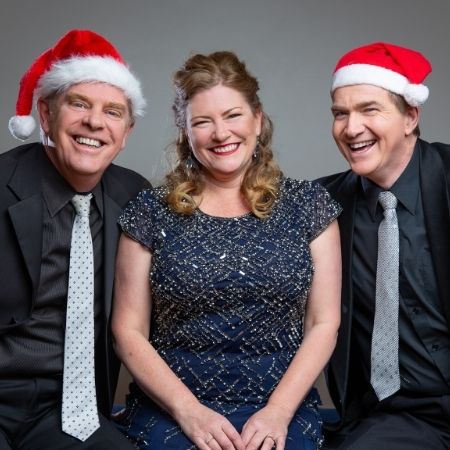 Music
A Very Merry HPAC Christmas
TUESDAY 14 DECEMBER, 11AM It's been a challenging year and what better way to end it than with a very special Christmas performance. The show is full of Christmas Carols blended with some contemporary Christmas songs mixed in with a whole lot of laughs. We're thrilled to welcome a great cast led by star Australian tenor Roy Best. Roy has recorded for ABC Classics, sung leading roles with Opera Australia and is currently guest soloist with the Australian Pops Orchestra. His stunning version of the "Holy City" is not to be missed. Joining Roy will be international soprano Alison Jones, who has sung all over the world including leading roles on the West End of London. The show will be compered by perennial favourite Christopher McKenna with the incredibly talented William Schmidt at the grand piano. Come and enjoy a relaxing morning of music and you may even find a Christmas flavoured surprise. Tickets:Admit $20
Hamilton Performing Arts Centre
The Handbury Auditorium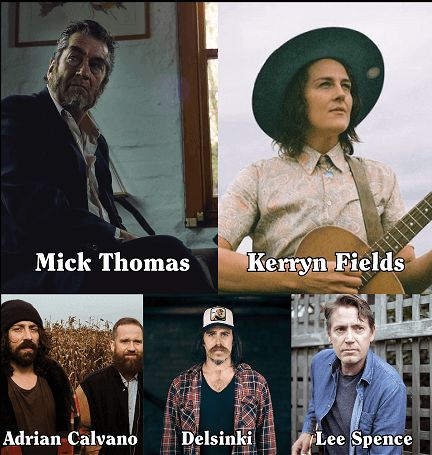 Music
Sing A Song Of Sixpence
THURSDAY 3 FEBRUARY, 8PM A beautiful night and a songwriter's delight for lovers of live music. Join Mick Thomas, Kerryn Fields, Adrian Calvano, Delsinki, Lee Spence along with James Macauley (The Lagerphones) and Matt Pitman (The Settlement) up close, on the stage at HPAC. Being there the first time a song is performed in public is always special and songwriters have for a long time, tried their wares on the St. Kilda faithful. This tradition continues at Hamilton with Sing A Song Of Sixpence. Songwriters will perform, showcasing their material whilst being accompanied by different instrumentalists. A truly intimate experience for lovers of live music! Tickets:Admit $38*Friends of Hamilton Gallery - 10% off full ticket price*Must be a current member
Hamilton Performing Arts Centre
PACked Stage Gig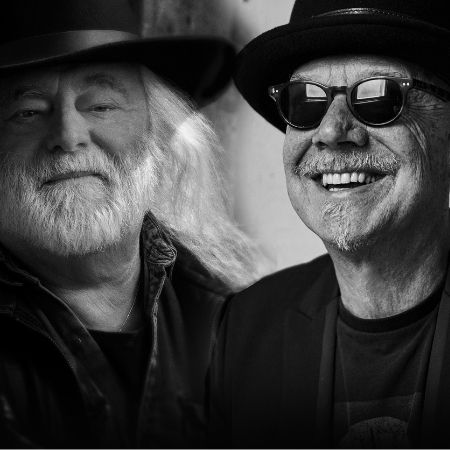 Music
Cadd & Morris
THURSDAY 10 MARCH, 7.30PM There are some truly beautiful entertainment bromances. Bert and Ernie, Lenny and Carl, Tyrion and Varys, Howard and Raj and then there is Brian and Russell. The lifelong friendship of Brian Cadd and Russell Morris should have its own name ... 'Brussell'. Brussell's history has heritage. Both Brian Cadd and Russell Morris had their first hits in the '60s. Both Brian Cadd and Russell Morris endured through the '70s, '80s, '90s and into the 21 century. Both Brian Cadd and Russell Morris are still delivering relevant new music in the '10s and now both Brian Cadd and Russell Morris are about to step into the Roaring '20s with a new show together. When Brian and Russell collaborate on a setlist fans are treated to a dose of Australian rock history. With their new albums 'Silver City' from Brian and 'Black and Blue Heart' from Russell bookended with their first hits dating back to the late '60s, 'Brussell' delivers a lifetime of original music in one show. When you take away their names and just look at the songtitles 'The Real Thing', 'Don't You Know Its Magic', 'Sweet Sweet Love', 'Ginger Man', 'Wings of an Eagle', 'A Little Ray of Sunshine', 'Rachel', 'Arkansas Grass' reads like a sample hour from your favourite radio station. When you just listen to the new songs like Russell's 'Forever Remembered' or Brian's 'Everybody's Leaving' you begin to understand to depth of life experience these two legends of Australian music have observed and appreciate the musical documents they have given us all over the past 50-plus years. But the show itself isn't just about the songs. Brian Cadd and Russell Morris have been best mates for more than half a century. What happens between the songs can only happen between two people whose professional and personal lives are aligned. You may come for the Brian Cadd and Russell Morris music but you'll leave laughing about the Brussell banter.  All Tickets: $66.20
Hamilton Performing Arts Centre
The Handbury Auditorium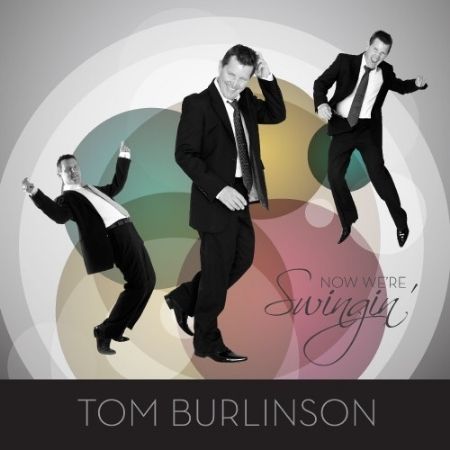 Music
Tom Burlinson - Now We're Swingin'
THURSDAY 17 MARCH, 7.30PM Presenting Australian star of screen and stage, Tom Burlinson, in his latest musical production, Now We're Swingin' - a sensational, swinging salute to the masters of the genre. The song list for the show is a feast of swing classics. The show includes the greatest songs from the era of swing and the ones for which the individual singers became best known, including: I've Got You Under My Skin, Summer Wind, That's Life and Mack the Knife in the Sinatra segment of the show. Accompanying Tom on stage will be a swing band with some of Australia's best jazz musicians. This will be an evening of timeless music with a dash of style as Tom Burlinson takes to the stage. Sneak Peek Tickets:Adult $67Seniors $65Concession $63Under 30's $60*Friends of Hamilton Gallery - 10% off full ticket price*Must be a current member
Hamilton Performing Arts Centre
The Handbury Auditorium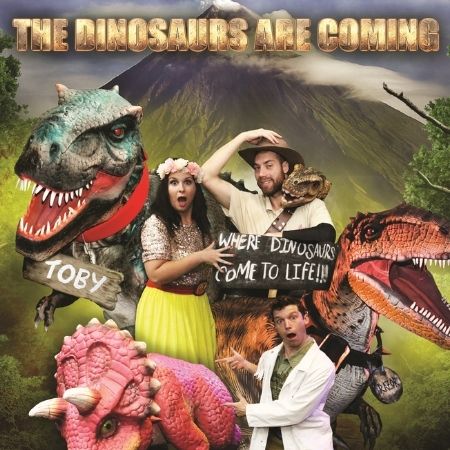 Children
The Dinomaniacs
NEW DATE: SUNDAY 24 APRIL, 2022 Look no further for a family show that's fun, interactive, entertaining and out of this world. THE DINOMANIACS is a family show spectacular that allows imaginations to run wild. The audience will embark on an awe-inspiring, exhilarating and gripping journey back to an age when dinosaurs roamed the earth. They will come face to face with FOUR dinosaurs and a quirky cast as the battle unfolds to find out who is the real champion of dinosaurs - the T-Rex or the Raptor! There are plenty of surprises, songs and dancing from start to finish. The show is suitable for ALL ages from 1-100 years old. Pre-show entertainment includes giveaways and a children's entertainer to provide excitement so make sure you come dressed up as your favorite dinosaur. There are prizes to be won for the best dressed! You may even be lucky enough to be picked out of the audience to join these prehistoric dino's on stage. Tickets:Admit: $16.50Family of 4: $55 Sneak Peek
Hamilton Performing Arts Centre
The Handbury Auditorium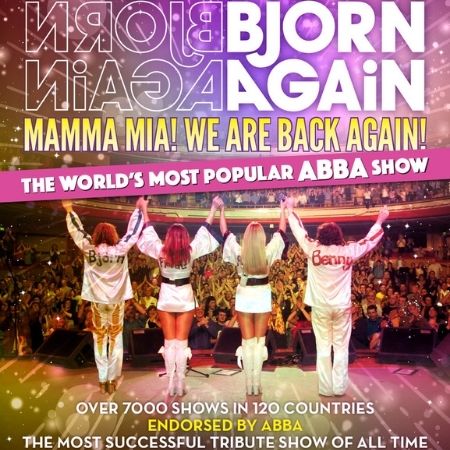 Music
Bjorn Again
FRIDAY 27 MAY, 2022 at 8PM BJORN AGAIN – THE WORLD'S NUMBER ONE ABBA SHOWMAMMA MIA! WE ARE BACK AGAIN! 2022 TOUR Dust off those flares, platform shoes and satins and get ready to sing, dance and have the time of your life on Bjorn Again's MAMMA MIA! WE ARE BACK AGAIN! Tour. Bjorn Again are so excited to back playing all of ABBA's biggest hits in an action-packed, highly-entertaining concert that is ABBA-SOLUTE fun for the whole family. Bjorn Again have performed over 7000 in over 120 countries world-wide, are endorsed by the members of ABBA and are regarded as the most successful tribute show of all time. Their critically acclaimed shows have been attended by JK Rowling, Tom Jones, Dave Grohl and Paul Kelly, Metallica, Robert Plant, Bill Gates and Nirvana just to name a few. REVIEWS ⭐⭐⭐⭐⭐ 'If ABBA reformed they wouldn't be as much fun as Bjorn Again'Q Magazine UK 'One of the most entertaining live shows in the world today'Time Out New York 'Bjorn Again are phenomenal in every sense of the word!'The Stage UK 'I like Bjorn Again because they are the ABBA for this generation. Why should we miss out?'David Lawrence UK 'Fans had better make the most out of Bjorn Again because that's the closest they are going to get to seeing ABBA. ABBA will never reform!'Benny Andersson of ABBA 'The best of luck. Anyone who looks like me ought to have a successful career!'Bjorn Ulvaeus So what are you waiting for? Send out an SOS and RING RING Fernando and Chiquitita and TAKE A CHANCE on BJORN AGAIN'S MAMMA MIA! WE ARE BACK AGAIN! 2022 AUSTRALIAN TOUR Sneak Peek Tickets:Adult $69Concession $65Student / U17 $65Groups of 8 or more $65 each
Hamilton Performing Arts Centre
The Handbury Auditorium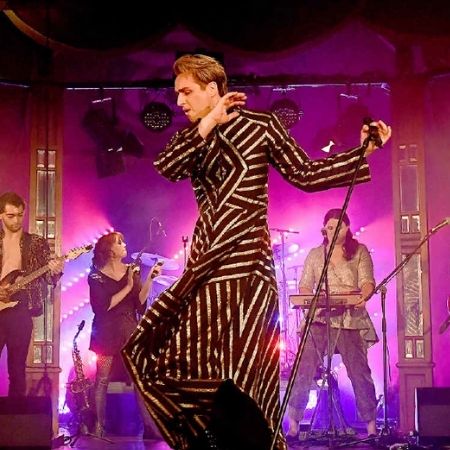 Circus, Comedy, Music
Rebel
THURSDAY 23 JUNE, 7.30PM Rebel is a live rock tribute – with a bit of comedy and a bit of circus -  to the original rebel, David Bowie. Stage dive into the mosh pit for a night of live music, glittering glam rock and spectacular heart stopping sideshow. Live music combined with comedy brings to life an incredible body of work that spanned over 50 years and an aesthetic that broke ground and inspired generations. Rebel has been inspired by the words of Bowie; "I want to tart rock up. I don't want to climb out of my fantasies in order to go up on stage — I want to take them on stage with me." Rebel is your Bowie fantasies realised - a live band and a spectacular rock and roll sideshow. Rebel is much more than a tribute show, with aesthetics and theatricality inspired Bowie fed into a live rock and roll extravaganza. Headlined by the incredible multi-award winning Stewart Reeve and featuring a rockstar band of artists from across artistic genres. Co-created by Highwire Entertainment, the production house behind Rouge, Papillon and Pop Party. Throwdown among others, Rebel is a non-stop rock and roll party. Sneak Peek Tickets:Adult $45Seniors $42Concession $40Under 30 $37*Friends of Hamilton Gallery - 10% off full ticket price*Must be a current member
Hamilton Performing Arts Centre
The Handbury Auditorium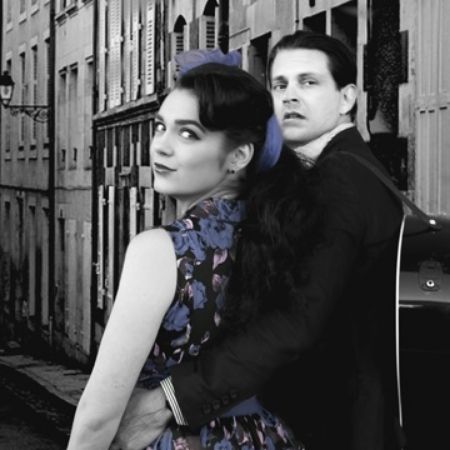 Country
Leaving Jackson
THURSDAY 11 AUGUST, 7.30PM Fall into the ring of fire in this unforgettable music concert dedicated to the music, love and lives of Johnny Cash and June Carter. Take a step back in time to when country music told a true story of life, love and heartache. For more than 40 years Johnny Cash and June Carter enthralled audiences around the world with their songs of life, love and heartache. Their love story played out through some of the greatest songs ever written, from the famous Walk The Line and Folsom Prison Blues, to the iconic Ring Of Fire. Now Jeff Carter together and Brooke McMullen bring to life a captivating and unforgettable musical concert in Leaving Jackson: The Johnny Cash and June Carter Show. These two talented performers share a very special onstage rapport, recreating the dynamic Johnny and June shared. This 2 hour live concert event will have you singing, laughing and crying for more. Ticket Prices:Adult $55Concession $49Group 6+ $49School Student $25
Hamilton Performing Arts Centre
The Handbury Auditorium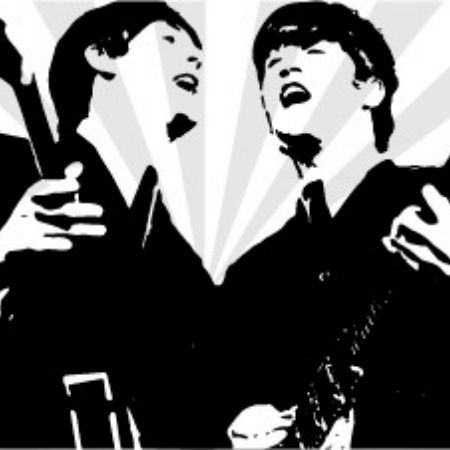 Music
Two Of Us
SATURDAY 20 AUGUST, 8PM Two of Australia's most applauded performers, Damien Leith & Darren Coggan, come together to celebrate the songbook of the most inspiring songwriters of all time, John Lennon & Paul McCartney. Performing immortal songs from The Beatles treasure trove of pop history, along with the richness and diversity of Lennon & McCartney's solo careers, Damien and Darren transport the audience back in time, back to the well of inspiration, to hear the timeless songs of Lennon & McCartney as they would have sounded when they were freshly penned, just a guitar, a piano and two voices. Two Of Us – The Songs Of Lennon & McCartney, starring Damien Leith & Darren Coggan promises to be a magical, intimate and acoustic portrait of the songs that changed the world. Damien Leith first captured the attention and affection of Australians when he was crowned winner of 2006 Australian Idol on Network 10. Since then Damien has made his mark in Australia as a singer, songwriter, producer, author, playwright and tv personality. He has enjoyed platinum-selling albums and toured Australia extensively with his tributes to Roy Orbison & Elvis Presley. Damien recently released an app entitled 'Damien Leith Storytime' featuring bedtime stories for kids and is currently enjoying his experience as breakfast announcer on 98.1 Power Fm. Darren Coggan is one of Australia's most exciting and diverse artists, a masterful storyteller who has carved a solid career within the Australian Country Music Industry, winning numerous Golden Guitar Awards. Darren has been equally as comfortable in musicals and on screen, currently presenting for the Network 7 lifestyle program 'Sydney Weekender'. Darren Coggan is perhaps best known for his critically acclaimed portrait of Cat Stevens that has inspired audiences in the most prestigious theatres around the world, including sell out seasons at the Sydney Opera House Concert Hall, Glasgow Concert Hall & Liverpool Philharmonic. The songs of Lennon & McCartney reward listeners at every turn, and in the end, they will outlive us all. "You and I have memories longer than the road that stretches out ahead" Two Of Us - Lennon/McCartney All Tickets: $55
Hamilton Performing Arts Centre
The Handbury Auditorium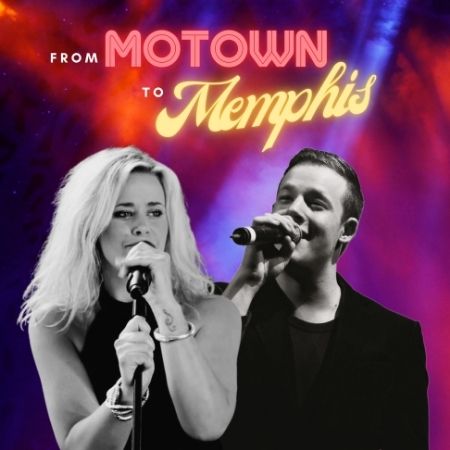 Pop Music
From Motown To Memphis
FRIDAY 23 SEPTEMBER, 8PM TALENT OZ ENTERTAINMENT PRESENTS Platinum Selling Young Diva KATE DEARAUGO & International chart sensation GREG GOULD are a "knockout" in this critically acclaimed smash hit show FROM MOTOWN TO MEMPHIS - a celebration of some of the greatest songs of all time! From the birthplace of Rock N Roll to one of the most influential sounds of the 20th Century, this show pays homage to Stevie Wonder, Tina Turner, Elvis Presley, Diana Ross, Roy Orbison, Dusty Springfield, Michael Jackson, Gladys Knight, Marvin Gaye, Carole King & the Queen of Soul - Aretha Franklin! After a sell out season in 2019, Australia's Got Talent Runner Up, Greg Gould is back by popular demand bringing along with him one of Australia's finest female vocalists in this "stage-shaking" production that transports you through the music that shaped the industry! Gould has toured the world with his infectious energy and incredible vocals with a #1 album under his belt and over 20 million views of his groundbreaking music videos. After winning Australian Idol Kate has had incredible success as both a solo artist topping the charts and touring to sold out shows across the country and being a founding member of the hugely successful girl group Young Divas! Strap yourself in as two powerhouse voices perform all the hits including Chain Of Fools, Suspicious Minds, Ain't No Mountain High Enough, Pretty Woman, Son Of A Preacherman, Superstition, Midnight Train To Georgia, Will You Still Love Me Tomorrow, I Want You Back and Proud Mary! For the "hottest ticket in town", jump on board with Greg, Kate & their rockin' band for this NOT-TO-BE-MISSED concert experience!
Hamilton Performing Arts Centre
The Handbury Auditorium